International PhD Forum on East European Art History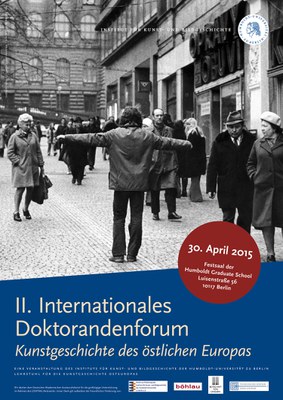 The "International PhD forum on Eastern European Art History" is a reaction to a strong international need for direct exchange on fundamental issues in this specialist field.
The event, which has taken place once a year since 2014 (end of April/beginning of May), brings together PhD students from all over the world who are carrying out work on the subject of art history or in related fields with regard to Eastern, Central Eastern and South Eastern Europe. The most important matter is to take into account the specific characteristics of the ever-pronounced national and regional scientific cultures and to encourage reflection thereof. The goal is international compatibility – never standardisation! – of topics, questions, theoretical coordinates and methods.
The format is a one-day colloquium with an open subject matter. The selection of up to eight projects for lecture presentations takes place after international invitation; in addition, there is a section with short presentations of the projects of all participants. The official languages are German and English. This is followed by a get-together in the evening in order to create space for further discussion.
The CENTRAL network enables up to five graduates from the universities in Warsaw, Prague, Budapest and Vienna to be granted a lump-sum travel allowance in order to facilitate participation for them. Additionally, CENTRAL supports the infrastructure of the event.
All submitted exposés with contact information are subsequently made accessible on the homepage of the Chair of Art History of Eastern Europe in order to promote sustainability.
I. International Forum for Doctoral Candidates in East European Art History
II. International Forum for Doctoral Candidates in East European Art History
III. International Forum for Doctoral Candidates in East European Art History