International Governance and Administration
The area of International Governance and Administration consists of two programmes, International Governance and Administration of Universities and Staff Mobility Exchange Programmes, which are coordinated by the offices of the CENTRAL network.
International Governance and Administration of Universities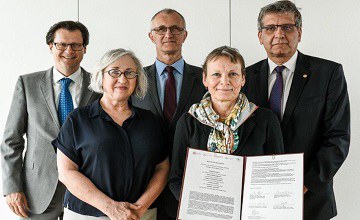 Governance meetings between the executive committees of the CENTRAL partners enable the exchange on current topics such as strategy developments or best-practice models for internationalisation processes at the level of university management. A joint learning process takes place through this exchange of experiences and perspectives, from which the respective institutions benefit when developing their international profile.
Strategic planning for the CENTRAL network is also developed in governance meetings, together with the relevant administrative departments at the partner institutions. Thus, a continuous and sustainable culture of exchange between the university management departments is developed. The strategy meetings take place at a different partner university each year. As part of the CENTRAL Governance Meeting 2019 at the University of Vienna the university leaderships decided to extend the existing Memorandum of Understanding untill 2023. New CENTRAL formats that will strengthen the network's profile will be developed. The next CENTRAL Governance Meeting will take place at Humboldt-Universität zu Berlin in 2020.
As well as at the management level, exchange between the administrative departments of the partner universities also takes place in the CENTRAL network. The university administrations therefore become even more familiar with the people, processes and structures of the partner institutions, can coordinate administrative procedures and increase intercultural skills of the participants. The goal is to include colleagues from the university administrative departments more strongly in the internationalisation of the university as they have fewer opportunities for international exchange than students or academic staff. Therefore, administrative staff also benefits from the CENTRAL network and contributes to the professionalisation and internationalisation of their universities.
For further information and participant reports please visit the Staff Mobility page.